Internet marketing companies can do a number of things. However, their services vary from one case to another. Ultimately, it's best to start with defining the types of marketing services that your business needs and find a company whose profile matches your requirements.
A digital media marketing agency is more commonly referred to as a marketing firm, online marketing agency, or just an advertising agency and can help you with all major types of campaigns: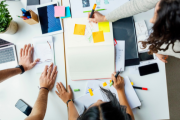 Membership – As the name suggests, this type of campaign is meant to target individuals who are likely to enjoy the exclusivity that only a membership from your company can offer

Acquisitions – These include product launches or a quick introduction to newly added services

Retention – The main purpose of this type of campaign is to keep your existing customers and if possible increase brand loyalty as well
Now, most people also seem to think that marketing agencies can only produce tangible work. However, a good agency will also be effective in working behind the scenes and planning tactical action with executive-level management, if necessary.
In fact, brand building is one of the important services that the top marketing firms offer. Brand awareness and loyalty are always a tremendous asset for any company to have, and it's what a good marketing agency can offer you – if, that is, you chose the best firm to work within the first place.